Inland Marine Expo (IMX)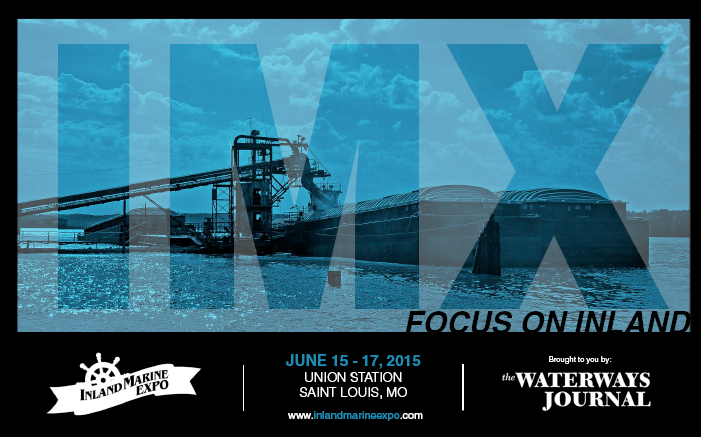 ST. LOUIS, Mo. – October 9, 2014 – The Waterways Journal Inc. announced today its second annual Inland Marine Expo (IMX) for the exclusive benefit of the inland and intracoastal marine transportation industry. The event will take place from June 15-17, 2015, at the historic Union Station in downtown St. Louis.

IMX sold out of exhibit space in its first year and attracted more attendees than originally projected. In a follow-up survey to more than 1,200 IMX 2014 exhibitors and attendees, 96 percent said they were pleased with their experience and would recommend the event to colleagues.

"IMX 2014 was a big success, but we're just getting started," said Nelson Spencer, Jr., business manager of The Waterways Journal, Inc., the owner of IMX and publisher of Waterways Journal Weekly, the inland marine transportation industry's leading news publication, and International Dredging Review, a bi-monthly trade magazine that focuses on dredging and marine construction. "Our second annual event in 2015 will be bigger and better, without losing the personal feel and inland focus our attendees and exhibitors told us they preferred."

In 2015, IMX will have space for nearly twice the number of exhibitors, plus six outdoor equipment display areas for large equipment. In addition, space is being set aside for expanded educational opportunities, including free vessel and port/terminal engineering and management sessions, and a full-day seminar, tentatively titled "Inland Opportunities," which will contain valuable information for carriers, shippers and ports/terminals.
"In addition to increased foot traffic and more and larger exhibits, IMX 2015 will offer more educational
programs, as well as new and exciting networking events to keep everyone exchanging ideas, improving their business and building a better inland marine transportation industry," said Spencer. "We are thrilled about the show's future."

With more than 3,500 boats, 25,000 barges and thousands of docks on 12,000+ miles of waterways, the inland marine transportation industry is the largest (by vessel), most active (by number of vessels built) and most diverse sector of the U.S. commercial marine industry.

IMX attendees include representatives from inland ports and terminals, barge and towing companies, fleeting and harbor services companies, dredging companies and marine contractors, inland shipyards and repair facilities, and engineers, divers, surveyors and other support industries, as well as related government agencies. 
More information about IMX can be found at http://inlandmarineexpo.com/.